Due to the current re-emergence of COVID-19, Language Center will not offer
on-campus English Entry Test in January and February 2021. We will keep
you posted for the later months.
The Language Center (LC) offers an in-house test of English proficiency called the AIT English Entry Test (EET). It is a 60-minute test consisting an essay (250-300 words). The score is based on a nine point scale.
Test result will be e-mailed within 5-10 working days after the test date. You are not required upon arrival to sit AIT's Academic Writing Placement Test (AWPT).
The test is conducted at AIT Language Center, Library Building, Second Floor, Room 216. 
For further information, please send an email to   LCTESTING@AIT.AC.TH   or call 02-524-6624.
This test is only for applicants to AIT. It is not for current students. The test fee is non-refundable.
Test time: 10:00 – 11:00 AM
There is limited space for test takers in each test session. To confirm your seat for the test, please register and confirm your test registration (via email with attached ID and proof of payment) at least one week before your chosen test date. 
2020 Test dates 
January 14, 15, 21, 22

,

 28, 29

  

February 4, 5, 

11, 12, 18, 19, 25, 26 

March 3, 4, 10, 11, 17, 18, 29, 30

October 6, 7, 14

October  20, 21, 27, 28  

November 10, 11, 17, 18, 24, 25   

December 1, 2

 
---
2021
January  26, 27

February 2, 3, 9, 10, 16, 17, 23, 24

March 2, 3, 9, 10, 16, 17, 23, 24

April 7, 20, 21, 27, 28

May  11, 12, 18, 19, 25

June 1, 2, 8, 9, 15, 16, 22, 23, 29, 30

July 6, 7, 13, 14, 20, 21

August 24, 25, 31

September 1, 7, 8, 14, 15, 21, 22, 28, 29

October 5, 6, 19, 20, 26, 27

November 2, 3, 9, 10, 16, 17, 23, 24, 30

December 1, 7
---
Confirm your test registration
Places are reserved on a first-come, first-served basis. 
Your chosen test date will be automatically released after 24-hours if we do not receive your email.
After the payment is complete, you must email your proof of payment with a clear color photocopy of valid passport (picture page) or Thai national ID card to LCTESTING@AIT.AC.TH as soon as possible. 
You are responsible to contact the Language Center after you have paid for the English test.
---
After we receive 
proof of payment and a photo of passport or Thai ID card, we 
will email a written confirmation.  This written confirmation consists of the the test instruction on the test day.
Test takers will not be allowed to test if they do not receive the written confirmation from the Language Center. 
---
Test fee
THB 1,000 

(No refund will be made for cancellation of examinations under any circumstances.)
PAY BY BANK TRANSFER
Account Name: ASIAN INSTITUTE OF TECHNOLOGY

Current Account number: 468-046301-2

Saving account number: 405-999567-0

Bank Name: Siam Commercial Bank Pcl., Ltd.

Bank Branch: Thammasat University Hospital

Branch Address: 95 Moo 8, Klong Nueng, Klong Luang, Pathumthani 12120 Thailand

Swift Code: SICOTHBK

Message to Beneficiary: English Entry Test

You must pay for any service charge or transaction fee separately.
PAY BY CREDIT CARD
You need to click the link below and fill in the registration form then follow the pop-up box to complete your payment.
Click here to pay by credit card now
PAY AT THE AIT CASHIER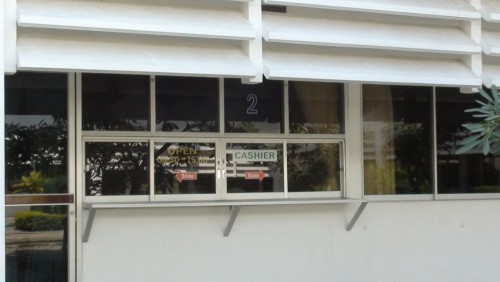 ARRIVING FOR YOUR TEST
When you arrive for your test, our staff will check your identity. Make sure you have your Thai ID or passport and a proof of payment

Be on-time. If you arrive late, you may not be allowed to take the test.

Switch off your mobile phone and any other electronic devices. You will be asked to place these with other personal belongings in the front of the test room.

Make sure you are prepared and have something to eat and drink beforehand. You will not be allowed to take food or drink into the test room.
DURING YOUR TEST
You will only be allowed to have a pen or pencil, and an eraser on your desk. 

You will not be allowed to leave the test room during the test.

If you have any questions during the test, raise your hand to ask for help.
TEST RESULTS & FEEDBACK
The test result will be e-mailed within 3 – 5 working days after the test date. The Language Center will report the test result to the AIT Admissions.
You may request for academic writing tutorials by sending an email to lctesting@ait.ac.th. This is an opportunity to meet with an LC lecturer to go over your writing. It costs 300THB per session (30 minutes).
For long-term learning effects that can help you improve your English and multicultural communication skills for your study at AIT and for your future work life, we would recommend you to take our intensive Bridging Program offered from June to July. Become multicultural and international with us!