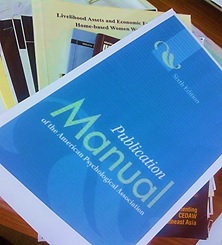 Research writing is a complex task. It entails an in-depth understanding of a topic, a review of the literature, and the analysis and interpretation of results. Every postgraduate student is expected to fulfill the requirements of the program by submitting a term paper or report, and a master's thesis or dissertation. To be able to present a research or scientific writing more comprehensively, AIT requires every student to follow a set of procedures or styles. By following a uniform style, presenting ideas and expressing results graphically or textually can be better understood by other academics or experts to which the master's thesis, dissertation or paper is presented.
It is of utmost importance to keep in mind that as relevant sources are used in research writing, ideas copied from an author should have appropriate citations and a complete reference entry at the end of the paper or thesis. This is to acknowledge the authors' ideas or to give credit to his work. AIT does not tolerate plagiarism. Thus, students have to cite their sources following the APA style in their term paper, master's thesis or dissertation.
This section serves as a guide for students particularly those who are not familiar with research writing. The APA Publication Manual is used as a reference in the succeeding parts of this section such as organizing the content, formatting and writing styles, and the citations and reference lists. Useful templates are also provided in this section.
Components of a Master's Thesis or Dissertation
Thesis structure and content Part 1
Thesis structure and content Part 2
Tools for Production and Printing
Document Specifications and Backup

Research Writing Samples and Exercises Useful Resources for Students and Researchers