Internet connections and cameras are crucial facilities for invigilating the online test. Make sure that your computer and your mobile phone are equipped with a camera and good internet connection access.
---
Before the test day:   
Find a laptop (built-in camera) or desktop computer (webcam installed) for typing your essay. Your laptop or desktop computer's operating system should be up to date. 

Download and install the ZOOM application (https://zoom.us) onto your computer (for typing your essay) and mobile phone (for showing your tabletop and seating). You can use the free version. You must familiarize yourself with the Zoom application before the test day. You can join the ZOOM application by typing the ZOOM Meeting ID (No passcode).

You should know how to use ZOOM chat and how to share the entire screen. We will only use ZOOM chat for our communication on the test day. 

Find a room with no one else entering during the test.

Find a phone-stand because you cannot hold your phone during the test.

Place a phone higher than your table and try to adjust it the same as shown in the picture below. We should clearly see your screen, keyboard, and your working space in front of the computer. Make sure to force rotate into landscape mode (horizontal video) on your phone.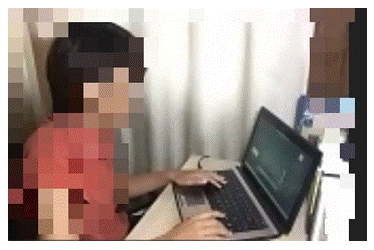 You will not be allowed to take the test if your camera's view is not the same as the picture above.
7. Disable and turn off the auto-correction, spelling check and auto-suggest features on your computer and the browser that will be used to open the test link. After you turn off these features, you can simply click here to check now!
---
On the test day:   
Make sure you have a good internet connection because it is a crucial facility for invigilating and taking the online test.

Clear your table. No paper, notes, textbooks, dictionaries, food and drink on the table. 

Join ZOOM on your laptop and mobile phone by typing the ZOOM meeting ID (No passcode) to prepare your camera's setup and share your entire screen from your laptop. You must share your entire screen until you finish your test.

Your camera's setup and screen sharing should be ready to be checked by the Language Center.

After your test setup has been approved, you are not allowed to leave the test area or move your camera's setup. You must wait until we have finished checking the camera's setup for everyone.

A test link will be given in the ZOOM chat before we start the test. You can simply click the link and type your name and email address and start the test right away.

You have 60 minutes to answer an essay question (no word limit). DO NOT PRESS ESCAPE (ESC) FROM THE FULL SCREEN or ANY FUNCTION BUTTON (i.e. F1 F2 and so on)! If you escape the full screen, your test will be auto submitted and your test score will be based on the answer that we received. 

If you finish your test before time, you can click the "submit" button to submit your test and leave ZOOM. Your test will be automatically saved and you will be automatically removed from ZOOM after you submit your test.
---
During the test:   
DO NOT take photos of the screen or capture the screen or share the test. 

DO NOT use microphone, earphones, or headphones. You will not be allowed to use ZOOM chat during the test so if you have any questions, please ask before you start the test.

DO NOT use any draft paper, notes, textbooks, dictionaries, or online sources while testing. Text cannot be copied or pasted while composing your essay. Your answers will be checked for originality.  There are serious consequences at AIT for those who plagiarize or copy. You will be banned from taking AIT EET in the future. 

DO NOT communicate with anyone during the test. You must be alone in the room with no one else entering during the test. No talking. No singing.

Personal recording devices of any kind are strictly prohibited. 

You are NOT ALLOWED to leave the test area during the test so prepare yourself and be ready for the test!